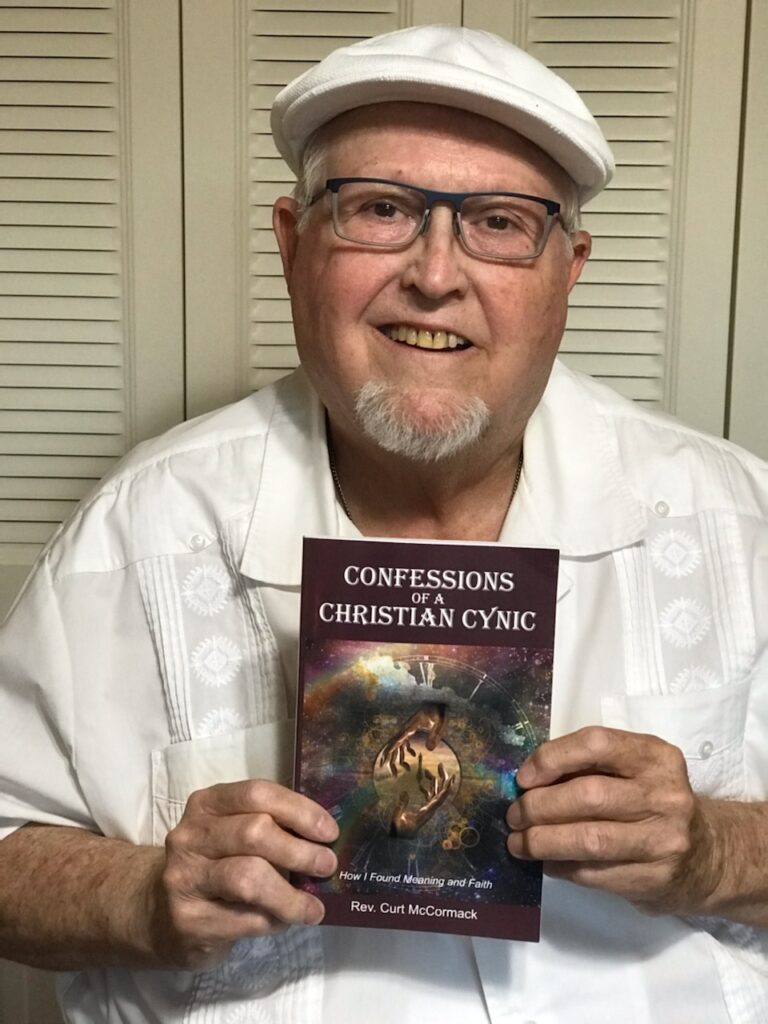 Available Now!
Confessions of a Christian Cynic:
How I Found Meaning & Faith
By Rev. Curt McCormack
This autobiography of Rev. Curt's spiritual journey offers a commentary on why much of the theology and current practices of the Christian faith are no longer viable for the 21st century Christian. His historical insights, reviews of the Aramaic and Greek texts, and metaphorical views are based on his life-long study of the Christian scriptures.
Today's Christians have accepted advancements in many areas, including science, technology and medicine, but would not want to be treated medically by a doctor of antiquity or give up their computer and smartphone for the quill and parchment.
The only exception has been in religion. Many Christians still want to honor the ethics, dogmas and rituals of an antiquated idea of God. This sometimes creates a faith of exclusivity that forgets the basic teaching of Jesus to love one another.
Curt brings to this discussion the universal principle of Divine Love that is found in most all the religious traditions.
For Rev. Curt, the simple fundamental truth of the Christian faith for the 21st century is found in Micah 6:8, "What does the Lord require of you? To serve justice, love mercy and walk humbly with your God."
"I strongly recommend McCormack's passionate, clear autobiographical, illuminating, at times humorous, series of essays."
Dr. Bill Malcomson, Retired Dean & Seminary Professor
A Meetin' Up With You
By Curt McCormack
My new CD, A Meetin' Up With You is a collection of original songs from my whimsical spirit and lovable heart. All songs have been studio produced and recorded with a variety of vocalists, including myself.
I have been writing songs since I was 13 years old, across a variety of genres including Gospel/Inspirational, Country and Children's. These are some of my favorites.
Gospel/Inspirational
1. A Meetin' Up With You
2. Hallelujah
3. Jesus Walked
4. Lord, You Are the Song
5. Love is the Answer
6. Little Bit of Heaven
7. Come Holy Spirit, Come
8. It's Amazing
9. We Are a Circle
10. We Are All One
Country
11. I Believe
12. Gettin' High on Love
13. I Am a Rich Man
14. What Color is Love
15. Barstool Mountain
Children's
16. Children Are the World's Greatest Treasure
17. K.A.R.E
18. I Am What I AM
19. Don't Be A Braggart
20. Happy Helper
21. Tiny Little Man
Rev. Curt McCormack
Rev. Curt is a retired pastor out of the American Baptist tradition, living in Oregon with his wife of 55 years. Curt is a lifelong student of the Bible, an author, a musician, a songwriter, and an advocate for peace, religious tolerance and social justice.
Sign-Up to Get Notified of My Current Blog